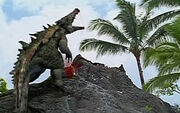 Supergator is the antagonistic deinosuchus from the second movie Supergator.
Supergator
is a prehistoric alligator recreated from fossilized DNA that escapes from a secret bio-engineering
research
center. Along the way, it eats many people, including 2 young lovers, 3 drunk teens, 3 models, 2 tourists, and a fisherman. It also eats Alexandra Steven, (Mary Stiefvater) and Ryan Houston (Josh Kelly). At the end The Supergator gets him and is blown up with gas, flames, and a shotgun.
Ad blocker interference detected!
Wikia is a free-to-use site that makes money from advertising. We have a modified experience for viewers using ad blockers

Wikia is not accessible if you've made further modifications. Remove the custom ad blocker rule(s) and the page will load as expected.